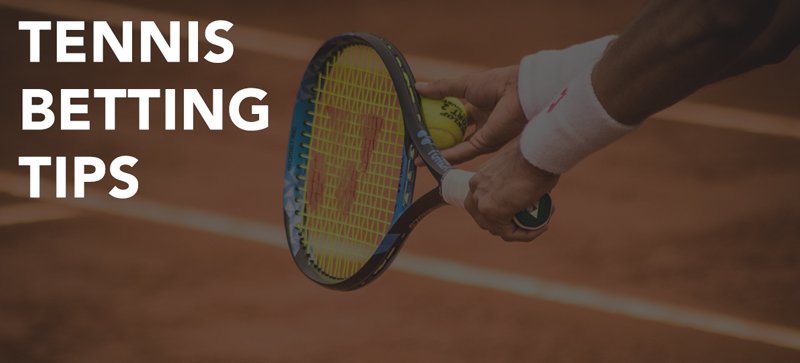 Want to find a tennis betting strategy that actually works? Use our tennis betting tips to start winning more of your bets in 2019.
Read on to find out more.
Betting on tennis – Introduction
Tennis is an incredibly popular sport throughout the world. With around 1 billion fans, its global reach is enormous. As you'd expect, betting on tennis is also very popular.
Whether it's for entertainment or part of a serious betting strategy, there are thousands of tennis bets placed each day.
Here's the thing, unfortunately, most of these bettors lose money to the bookmakers on a regular basis. Whilst it's not possible to win every single tennis bet you place, the majority of punters could be far more successful if they improved their strategy.
Talking of strategies, there are a number of tips and tricks that punters can use to increase their profitability when betting on tennis. We'll take a look at some of these below.

Tennis betting tips
So we know tennis provides some great events to place your bets on, but let's look at some tennis betting tips and find out how you can maximise your profit in 2019. Typically, the same betting tips apply to football and other sports as well.
Here's a quick overview of our top tennis betting tips:
Stay organised
Use multiple bookmakers
Stay impartial
Know tennis inside out
Start matched betting
Right then, let's look at each of these in more detail.
Tip #1 – Stay organised
Our first tennis betting tip is to stay organised. By this I mean you should keep a record of all the important information that affects your betting. Here are some things to consider:
Record past and currents bets
Write down betting account information
Record past and current bets
It's vital you keep a record of your past and current bets. If you're serious about making a long term profit betting on tennis, this is vital.
You'll be able to spot trends and analyse your betting more effectively.
For example, if you've been betting on a certain player and they've been letting you down, you'll easily be able to spot this.
I recommend you calculate your total profit and loss after each week of betting. This way you know how profitable you are. If you're consistently in the red it's time to change up your tennis betting strategy.
Write down betting account information
As you progress with your tennis betting strategies, you're likely to open a number of different bookmaker accounts (as we'll look at in the next section).
Remembering account usernames, passwords and security questions will become a pain when you have more than 10 bookie accounts open.
Therefore I recommend you record all of this information in a spreadsheet. So if you don't use autofill passwords or you simply forget a username, you can quickly access them.
As before, I recommend you use either Excel or Google Sheets for this data.
Overall, staying organised is an important part of a successful tennis betting strategy in 2019 and it's certainly something you should consider starting if you're not already.
Tip #2 – Use multiple bookmakers
Next in our list of tennis betting tips is to use as many different bookmakers as possible.
Long gone are the days when you could only access a single bookmaker by visiting your local high street store. In the modern world of online gambling, you have access to pretty much every bookmaker you could wish for, in just a matter of seconds.
That's great for serious punters who shop around for the best price. Here's the thing, the bookmakers offer different prices on certain markets and events. That means there's often more value if you shop around and check for the best odds.
And it doesn't even take long!
This process is now easier than ever thanks to the advancement of technology. You can use websites like Oddschecker to find the best odds for a certain tennis game with just a few clicks of your mouse.
As you can see, Oddschecker displays the odds offered by bookmakers and highlights the best ones.
Free bets and promotions
It's not just odds that you should use multiple bookmakers for.
Different bookmakers also offer promotions and incentives to keep new and existing customers returning. This is another reason to keep using different bookies for your tennis betting.
There are hundreds of free bets and other promotions you can get your hands on. I'd sign up to a bookmaker even if you're just taking advantage of their offers. You can't miss out on free bets!
Overall, mixing it up in terms of bookmakers is vital to ensure you maximise your profit from betting on tennis.
Tip #3 – Stay impartial
Third, in our list of tennis betting tips, it's important to stay impartial. Don't bet with your emotions.
Trust me, you'll make far better predictions if you don't involve any emotion. Use your analytical brain and stick to your research. That way you won't go too far wrong.
I recommend you avoid betting on your favourite tennis players as this is a surefire way of bringing emotion into the mix.
Tip #4 – Know tennis inside out
In my view, this is another important tennis betting tip. Punters who make good money betting on tennis know exactly who they're betting on. They know the form of both players and their previous match history etc.
The more you know about the game, the more likely you are to pick a winner. However, there are no guarantees. It's a sport and anything can happen.
When I refer to knowing tennis inside out, it's also important to understand what tennis betting markets are available. We'll take a look at some of these below.
Know your markets
In tennis betting, there are a number of markets bettors can consider selecting.
Match betting
The most common tennis betting market is the match betting market. This is the simplest of all betting markets and simply refers to who you think will win the game.
There are 2 options when it comes to match betting. In tennis betting, the favourite usually has low odds meaning a large stake of £100 may only return you a tenner.
Whilst it's still profit, upsets can happen meaning you'd lose a large stake if the result doesn't go your way.
Correct score
Again, this is a relatively self-explanatory tennis betting market. You're simply betting what the score will be in the game.
Men's grand slam matches are best of 5 sets which can make for interesting betting on the correct score market. Expect fairly short odds when betting on a favourite.
You can also use this tennis betting market within sets rather than the game itself. Obviously, the odds of picking the correct score in a set are a little more difficult meaning higher odds.
There are obviously other tennis betting markets available so there's plenty of opportunities to get your bets placed.
All in all, the more information you have, the more informed your picks will be which should return you a greater profit.
Tip #5 – Start matched betting
Last but not least in our list of tennis betting tips, I recommend you should consider starting matched betting.
This process allows you to make a guaranteed profit without risking any of your own money. It works by taking advantage of bookmakers free bets and other promotions.
Matched betting is an incredibly popular method of making money online thanks to the huge range of different bookmaker promotions and free bets.
I won't go into the details in this article, but for more information on what matched betting is and how to get started, check out this article.
Major tennis events to bet on
Now we know a little more about some top tennis betting tips, here's a look at the most popular tennis events to place your bets on.
The great thing about tennis is that there are events throughout the whole year meaning there's always something to bet on.
There are four major tennis tournaments of the year including:
Australian Open
French Open
Wimbledon
US Open
To kick the year off, the Australian Open takes place in January. This tennis tournament has been running since 1905 and takes place on a hard surface.
Next up, the tennis elite head to Paris for the French Open. Roland Garros is played on a clay surface and suits different players' styles.
Wimbledon takes place in June/July and is the oldest tennis tournament in the world, dating all the way back to 1877. This tournament is played on grass.
Last but not least, the US Open finishes the year in September on a hard surface.
There are obviously many different, smaller tournaments throughout the year which you can also bet on. However, we won't go into the details in this article.
Tennis betting tips
Overall, tennis is a great sport to place your bets on. By using the betting tips mentioned above, you should certainly increase your profitability. Let's have a quick recap.
Keep a record of the most important tennis betting information so you can easily analyse your past and current strategies.
Use multiple bookmakers to increase your chance of a greater win and also have access to more promotions and free bets.
Stay impartial and use your analytical brain when deciding where to place your bets. Don't place bets on players you support.
It's important to know tennis inside out. Research the players your betting on along with their opponents and match history. The more information you have, the more informed your bets will be.
Consider starting matched betting to make a guaranteed profit from bookmakers free bets and promotions.
What's your favourite tennis betting tip? Let me know by leaving a comment in the section below.