Paddy Power is one of the largest and most popular bookmakers in Ireland and the United Kingdom.
They have 650 shops in Ireland and the United Kingdom and a brilliant online platform. They were founded in Dublin, Ireland back in 1988 and have grown into a brilliant betting company over the years.
In February 2016, Paddy Power merged with online betting exchange giants, Betfair, in a deal worth around £5 billion. This helped Paddy Power cope with higher taxes, regulation changes and also the ability to compete for more customers.
There are over 600 betting shops in the UK and Ireland and Paddy Power also operate in Australia and America. Such a global company has a great reach in terms of their marketing potential and Paddy Power does not shy away from bold and often controversial marketing campaigns.
Famed for their controversial marketing campaigns, here are our top 8 Paddy Power adverts and PR stunts.
Top 8 controversial Paddy Power marketing campaigns
1. Paddy Power lucky pants
The so-called 'Paddy Power lucky pants' have been around since March 2013 when they debuted hovering over the Cheltenham Festival. It took a team of experts six months to get the hot air balloon flight worthy.
The last major outing for the pants was when Mayweather took on McGregor in the 'fight of the century' in August last year.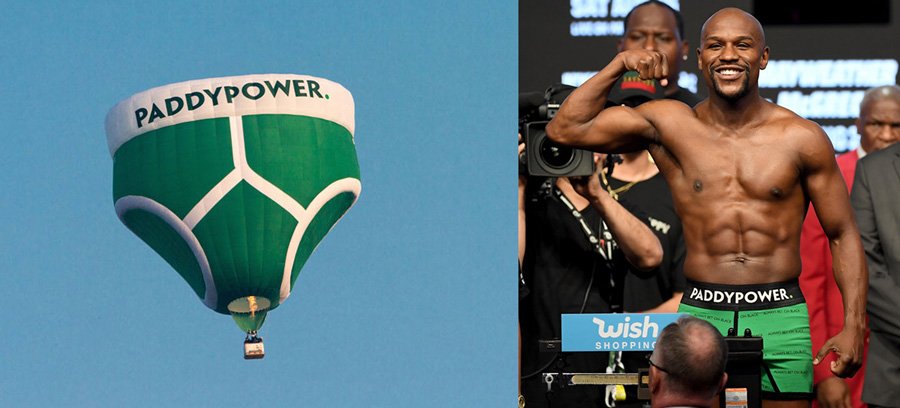 2. Alex Ferguson
This is one of my personal favourites. When Manchester Utd legend Sir Alex Ferguson left the club, David Moyes took over and suffered a horrid run of results. This prompted Paddy Power to place a wax figure of Sir Alex Ferguson outside the ground with the slogan 'In case of emergency at Old Trafford, break glass' on it.
3. Donald Trump's greeting party
Everyone knows Donald Trump was/is (no one's sure anymore) planning to build a wall between America and Mexico. So when Trump visited Scotland, Paddy Power sent a greeting party to meet the President. And yes, they were a Mexican Mariachi band. Absolutely brilliant!
4. Russian Athletes
Here's another politically driven campaign to add to our list. With the 2016 Olympics just around the corner, things erupted when Russian athletes were caught up in a huge state-approved doping scandal.
Paddy Power thought it would be a good idea to place a medal amnesty box outside the Russian embassy in London with the slogan 'PUTIN your medals' emblazoned on the side.
5. OAPs crossing the road
Going back a few years to 2002 with this one. Paddy Power showed an image of two old women crossing a road. Each woman had a bubble next to them, with odds of them getting across the road first. Contrary to common thoughts, Paddy Power claims they were not betting on who would get run over first. This remains one of the most controversial betting ads there's ever been.
6. Gambling at The Last Supper
Again, a very controversial marketing ploy that Paddy Power was very quickly banned from showing. The poster portrayed Jesus and the disciples gambling at the Last Supper with the caption 'there's a place for fun and games'.
7. Immigrants all aboard
During the immigrant crisis in Calais, Paddy Power drove a lorry to Calais with the slogan 'Immigrants, jump in the back! (But only if you're good at sport)' embellished on the side. This marketing ploy ended up getting Paddy Power in some sticky water, with a huge number of complaints. But as the old saying goes 'there's no such thing as bad publicity.
8. MPs getting the sack
In the run-up to the 2015 General Election, Paddy Power parked a lorry outside the Houses of Parliament with the slogan 'You're getting sacked in the morning' decorated on the side. They claimed that up to 75% of the MPs would lose their seats in Parliament.
As you can see Paddy Power run the fine line between brilliant marketing strategies and having their content banned. I guess, pushing it to the limit has gotten them to where they are today. So I take my hat off to them for that.
Matched betting with Paddy Power
Matched betting is hands down the number one way to make some extra income online. There are 1000s of people already taking advantage of this brilliant money-making technique so why not join them?
Have more matched betting questions? Check out our complete answers here.
Like all bookies, Paddy Power offers a lot of free bets and promotions that matched bettors can take advantage of daily. Generally, they promote free bets on football and sporting events, although they sometimes have special offers available for other markets. This makes Paddy Power a great choice for our matched betting purposes.
We make a guaranteed profit using a technique called back and lay betting. We place bets on all outcomes so nothing is left to chance, making matched betting a completely risk-free betting technique. You can find out more in our complete guide to matched betting.
Thanks, everyone. Happy matched betting.