Qualifying bets are one of the most important aspects of matched betting. In this article, we'll look at what qualifying bets are, why they're so vital and how to place them.
What is no risk matched betting?
I'm going to assume you've never heard about matched betting. If you have, you can skip to the next section.
No-risk matched betting, also known as double betting, is a popular way to make money from bookmakers free bets and bonuses. We use a risk-free betting technique called back and lay betting to cancel out any risk involved with 'normal' betting. We use a mathematical formula to work out the exact bets we need to place.
Don't worry, here at The Sure Bettor we do all the complex maths for you. It's all built into our very own matched betting calculator.
Check out this guide on how matched betting works for more information.
There are hundreds of bookies online, all competing for the same business. Therefore it makes it incredibly hard to stand out above the rest. That's why bookies use promotions to incentivise bettors to place bets with them and not with competitors.
Unfortunately, the bookies don't just hand out these free bets to anyone. There is always qualifying criteria we must complete before accessing our free bet and making our guaranteed profit. That's where qualifying bets come in.
Why qualifying bets are so important for matched betting
As we mentioned above, qualifying bets are one of, if not the vital component of matched betting. Without qualifying bets, there would be no free bet and no guaranteed profit.
Qualifying bets allow us to unlock our free bets and bonuses from the bookies.
Most, if not all, free bets require you to wager a certain amount before you can redeem your bonus. The bookies use it as a way of drawing gamblers in. Here's a typical example from William Hill.
William Hill offers new customers a £30 free bet when they sign up and bet £10. So, to access our £30 free bet, we must first sign up and stake £10. This is the qualifying part of our matched bet.
Terms and conditions
Before we look at placing any bets, we need to consider the qualifying criteria. There are always terms and conditions for our qualifying bets that we must fulfil before gaining our free bet. As any matched bettor will know, the bookies like to create pages and pages of terms and conditions. Don't ask me why, it's probably so they can catch people out.
The screenshot below shows just part of the terms & conditions for the William Hill sign up offer above.
See what I mean… Who wants to read all that?
A lot of it is filler but there are a few very important points that we must consider for our matched betting. Some of the key information you need to look out for includes minimum or maximum stakes and/or odds, time limits on your bets and any promo codes that you need to use. Without this information, we may not qualify for our free bet, rendering matched betting useless.
In the William Hill example above, the T&Cs state that we must use the promo code C30 when we sign up and we must select a market with minimum odds of 1.5 to qualify for our £30 in free bets.
In general, reading these terms and conditions is a pain but also an essential part of matched betting. Here at The Sure Bettor, we take all the hard work out of matched betting and do it for you. That's why we have a team of matched betting experts continually searching for the latest offers and checking through the terms and conditions to make sure the offers are worth completing.
Once we've found the best ones, we add them to our premium members dashboard along with all the important information you'll need to complete the offer and make a guaranteed profit.
Using qualifying bets in matched betting
One of the reasons people love matched betting so much is due to the risk-free nature of this betting technique. By using back and lay betting, we cancel out any risk from 'normal' gambling. In simple terms, we place two opposite bets using different betting companies, one bookie and one betting exchange. One of our bets will win and one will lose meaning these two bets effectively cancel each other out. That way, we qualify for our free bet without risking any of our money.
For more information check out our guide on back and lay betting.
Picking a suitable market
We don't need to place our bets on any specific sports or events, we just need to select a market which suits us. The aim is to pick a market with back and lay odds as close together as possible. The tighter the odds are, the better. You can use odds-matching software for this step, however, I think it's important matched bettors understand the workings behind the technique.
Once you've found a suitable market, enter the odds into the matched betting calculator. Here is an example to help explain. We'll use the William Hill example from above to make it easier.
So we need to place a £10 qualifying bet. We'll look for a market with odds of around 3.0. Remember, we want the lay odds to be as close as possible. I've found a market with back odds of 2.50 and lay odds of 2.58. The odds are fairly close so this should give us a good result.
Below are the back odds at William Hill.
Below are the lay odds at Smarkets. This is the betting exchange I suggest you use. For more information on why, check out our in-depth Smarkets review.
Now we can go ahead and add these figures into the matched betting calculator.
Matched betting calculator
When using the matched betting calculator you must select the correct bet type at the top of the tool. The calculator's default is set to 'Qualifying Bet' so we don't need to make any changes for this matched bet.
So, we enter the back stake which is £10 in this example, the back odds which are 2.50 and the lay odds which are 2.58. We can leave the back commission and lay commission boxes alone for this offer (this is the case for most matched bets if you're using Smarkets). It should then look something like the picture below.
The calculator tells us our lay stake should be £9.77. This is the amount we should stake at the betting exchange to offset our back bet. Overall, we'll lose £0.43 qualifying for our £30 free bet. Note: it's the same outcome whichever bet wins. This is a typical loss from a qualifying bet.
How much will I lose on qualifying bets?
It's important to note, you will almost always lose a small amount when placing qualifying bets. This is due to the discrepancy in odds and the commission the betting exchange takes. As a general rule, we aim to lose no more than 5% of the overall back stake. So in our William Hill example from above, we'd try and limit our losses to £0.50 (5% of £10). It's not always possible, but it's worth aiming for.
In some instances, it's possible to make a small profit from qualifying bets. Let me explain.
As we've already mentioned, the aim in matched betting is to find tight matches between the back and lay odds. The tighter the match, the more money you make. In general, the back odds are always slightly lower than the lay odds. However, on the rare occasion the back odds are higher than the lay odds, we can make a guaranteed profit regardless of the outcome, without using a free bet.
In the example below, the back odds (3.0) are higher than the lay odds (2.5). I've made this example up just to explain how this works.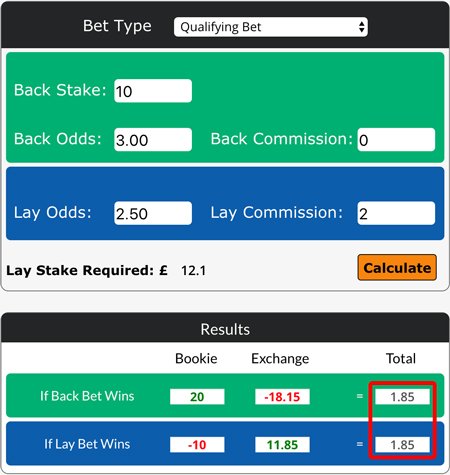 So in this example, we'll profit £1.85 from our qualifying bet. Finding odds like this is quite rare, however, there have been occasions where I've made a few quid on qualifying bets before profiting from the free bet itself.
How to place qualifying bets
Placing qualifying bets is the same as any other matched bet. Use the process below and you'll be in safe hands.
Once you're happy with the market and the outcome of your bets, you can move on. I always advise you double-check the stakes and odds in the calculator before going ahead.
Once you're happy, place the bookie bet first (back bet).
Next place your exchange bet (the lay bet).
Double-check your bets before moving on.
Now you can chill out in the knowledge you'll soon have your free bet which you can make a guaranteed profit from.
I've placed my qualifying bet, what next?
Awesome, it's going well! The next bit is easy.
Once you're qualifying bet has settled you should be able to locate your free bet in your account. If your bonus isn't there, I suggest you hold on for a couple of hours or get in touch with customer services. Sometimes it takes a moment for the admin side of things to work.
Each bookie is different but you can usually find your free bets in the bet slip or near your account balance. Coral adds free bets to your bet slip (see picture below).
All you need to do is repeat the same process as above and make a guaranteed profit from your free bet. It is that simple… Well, there's a bit more to it but we'll save that for another article.
Conclusion
Hopefully, this article shed some light on qualifying bets and how they are a pivotal part of matched betting. Without them, we wouldn't be able to qualify for our free bets and matched betting would be pointless.
Fancy learning more about matched betting? If so, we've got a wealth of articles and guides available for you, all written by our very own matched betting experts. Just head to the matched betting blog and we'll see you in another article.
Alright everyone, thanks for reading 🙂