By Charles Hopewell | Updated January 20, 2020
Betconnect is one of the newest and most innovative betting exchanges in the industry, but should you use their platform in 2020 and what advantages do they have over other exchanges?
Read our definitive Betconnect review below to find out more.
What's in this Betconnect review?
First things first, what are you going to find in this Betconnect review?
Choosing a betting company can be a tricky process and with so many options available to new punters, your task is made even more difficult.
Just check out the number of free bets and other promotions available in the image below!
Whether you're picking a new bookmaker or opening an account with a betting exchange, there are plenty of decisions you need to make along the way.
We aim to help you make the right choices from the get-go, so you can start as soon as possible.
In this review, we'll cover the most important factors that you should consider before opening a new Betconnect account and whether they are a good option in 2020.
Before we get into the Betconnect review, let's clear a few things up.
What is a betting exchange?
For those of you that are new to the world of betting, you may not know what a betting exchange is and how they work.
In simple terms, an exchange is an online betting platform that matches punters looking to place opposite bets. A betting exchange doesn't take on any bets like a traditional bookmaker and they make money differently.
They charge a commission on players' net winnings rather than building a profit margin into the odds they offer their customers.
This means the punter usually has access to better value odds at betting exchanges compared to more traditional bookmakers like Coral and Ladbrokes.
There are several key players in the exchange industry including:
Betfair were the ones who developed the betting exchange model back in 1999 and they've done incredibly well since. They're still the largest and most popular exchange in 2020.
However, they've faced increased competition over the last few years as more companies have evolved.
For more information, check out our in-depth article on betting exchanges.
What is Betconnect?
Right then, let's get into the Betconnect review!
To kick things off, let's look at what Betconnect is and where they fit in.
Betconnect differs from other betting exchanges in that they are a social betting platform.
As a punter, you can follow and copy the exact bets of professional tipsters with just a few clicks of your mouse.

No more guessing who you think will win or lose, you can look at actual stats and follow the most profitable gamblers. This is a sure-fire way to increase the profitability of your betting in 2020 and beyond.
Betconnect background
Founded in just 2018, Betconnect is new to the betting scene.
However, in their short history, they've gained a lot of attention in the industry by creating an innovative social betting model.
As we know, Betconnect is a betting exchange with a difference.
Like other exchanges, they simply act as the go-between for punters looking to place bets. However, Betconnect match professionals with knowledge with amateur punters with less experience.
The team behind Betconnect has developed a very clever model that meets the high demand for betting tips in 2020.
Social betting and tipsters
Social betting platforms are relatively new in the betting world.
However, there's a high demand from amateur punters looking to follows tips and advice from more experienced and professional gamblers.
Tipster sites have been around for a while now, however, they've seen massive growth over the last few years as individuals place more bets on their mobile devices and interact with betting in a more sociable way.
Amateur punters want to share their latest bets with their friends and family, increasing the overall entertainment of betting. This demand has paved the way for social betting sites and tipster sites where individuals can easily follow the most profitable bettors.
Betconnect have taken this one step further allowing punters to place bets directly within their betting platform. They're essentially the eToro for betting.
Professionals and punters at betconnect
When you first get started with Betconnect, you can sign up for one of two accounts. You can either register a professional account or a punter account.
Betconnect accepts any type of gambler on their platform. You've got serious gamblers on the professional level that may have been banned by several bookmakers and complete newbies at the other end.
Professional accounts
The first type of account you can register is a professional account.
Using this account, you can create Bet Requests (more on these later in the review) for punters to match and effectively share your betting knowledge with amateurs.
As I mentioned earlier, professional punters at Betconnect are typically gamblers that have been banned by bookmakers as they were so successful.
What's more, you can easily follow the most profitable pros by checking their account stats.
For those of you getting started with pro accounts, Betconnect is unlikely to ban or gub your account as other bookmakers do.
Punter accounts
Most of you reading this Betconnect review are probably after a punter account.
With this account, you can follow the exact bets professional's place and benefit from their experience and knowledge.
However, you're not limited to following their advice. If you disagree, you can follow your research and gut instinct and bet against their suggestions.
Once you've created a punter account with Betconnect, you can check out account profiles from professional gamblers.
You can see their average ROI which is shown in a percentage, as well as the number of Bet Requests they've generated and their weekly profit/loss stats.
This effectively shows how profitable a pro is and whether they're worth following.
If you like the look of a professional, you can press the Connect button. This saves the account so you can easily come back to it in the future. You can find your connected accounts by visiting the corresponding tab.
All in all, you're likely to pick more winners when you follow experienced bettors, making the punter account very effective for betting newbies.
Note: You can sign up for a pro or punter account or both. However, for this, you'll need to use different email addresses and effectively create two separate accounts.
Betconnect review – How does the platform work?
As you've probably gathered, Betconnect is not like your normal betting exchange. You can't log in and place a bet on any market you like, you're restricted to bets that professionals create.
However, that doesn't mean you should ignore Betconnect. You can still make a great profit using their platform.
If you register a punter account, you'll have access to professional bets via something called a Bet Request.
What is a Bet Request?
I'm assuming you've not heard of Bet Requests before, so in this part of the Betconnect review, we'll look at what they are and how they work.
As I mentioned in the last section, you can only place bets via the Bet Request method if you are a punter. If you have a pro account, you'll be creating Bet Requests.
When you first log in to your Betconnect account, you'll see the Bet Request button.
If you push the button you'll receive several suggested bets. In simple terms, this is a bet that the system thinks you should place.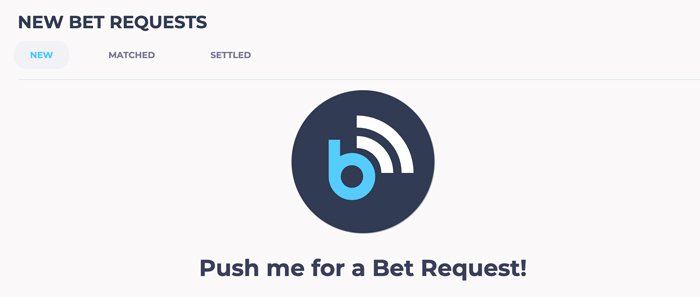 Note: You can customise the type of bets you receive and from whom you receive your bets in your account profile.
Depending on your contact preferences, Betconnect may also send you Bet Requests via email or WhatsApp.
If you're serious about making money with betting, I suggest you leave all these settings turned on. You don't want to miss out on any profitable bets.
Before you go any further with a Bet Request, you'll first need to deposit the required liability. More on this and different payment methods later in the review.
If you like the look of a Bet Request, you can go ahead and match it. From there you have several options. You can either Copy, Follow or Lay the bet.
Here's what they mean:
Copy – You place the same stake as the Bet Request, at a bookmaker of your choice offering the same odds or better.
Follow – You place a higher stake than the Bet Request, at a bookmaker of your choice offering the same odds or better.
Lay – You choose to bet against the Pro, lay their Bet Request and take no further action.
Once you receive a Bet Request, you'll have a maximum of 15 minutes to act on it. After that time has passed, you'll have to look for another Bet Request. You can see the countdown timer within the Bet Request itself.

Match & More
Betconnect have recently brought out a new feature called 'Match & More'. If you match the full stake of a Bet Request and hit the Match & More button, you'll be able to match more of the bet if there's more liquidity available.
If you're confident about a bet, this feature lets you go all in.
You can activate Match & More from your account settings.
Betconnect review- Key considerations
As Betconnect is different from other betting exchanges, we need to consider slightly different aspects in this Betconnect review. Here's a list of the things we're going to look at.
Markets
Commission rate
Promotions
Payments
Betconnect markets
Markets are the backbone of any betting company so that's what we'll look at next in this Betconnect review.
Considering Betconnect is still relatively young, they have a great range of markets available to punters. Here's a list of markets you can find:
American Football
Baseball
Basketball
Boxing
Cricket
Darts
Football
Golf
Motorsport
Rugby League
Rugby Union
Snooker
Tennis
Commission at Betconnect
Similar to other betting exchanges in the industry, Betconnect charges a commission on players' net winnings.
However, this charge is only for professional accounts. This commission is charged on all bets regardless of the outcome of the event and is calculated at a maximum of 3%.
Bettors who sign up with a punter account will never pay any commission at Betconnect. This is one of the most appealing aspects of using the Betconnect betting platform.
Betconnect hands down beat other betting exchanges when it comes to commission rates. Here's what other exchanges charge:
Smarkets – 2%
Betfair – 5%
Betdaq – 2%
Overall, the commission rate at Betconnect is great for punters and very competitive for professionals.
Customer support
As with anything these days, be it online or offline, customer support is a major priority for individuals.
We're looking for quick response times, knowledgable support staff that help answer questions and a range of contact methods for ease of use.
At the time of writing, Betconnect has a limited range of support methods offering just email and live chat during selected working hours. However, the support staff are top-notch.
As the platform develops over time, I expect to see more support options being offered such as support tickets and maybe a phone service.
Betconnect promotions
Next up in our Betconnect review, we're going to look at the promotions the company offer new customers.
Welcome offers and other bonuses play a huge role in online betting in 2020. You'll find that most bookmakers offer some kind of promotion for new customers.
You'll be pleased to know, Betconnect is no different. They offer new customers up to £50 in free matched bets. This is an awesome promotion that is certainly worth signing up for.
Payments methods at Betconnect
Next up in our Betconnect review, we're going to look at the payment methods you can use to deposit and withdraw from your account.
As I mentioned earlier, you won't be able to match a Bet Request unless you deposit the required liability.
You can deposit into your account using various credit and debit cards and you can use the same methods to withdraw your funds from your account.
The payment methods are somewhat limited at the time of writing, however, I expect this to change shortly as Betconnect further develop their platform.
I'd like to see various eWallet providers to better compete with other online betting companies.
Betconnect reliability
Reliability plays a big role in any digital company.
Despite Betconnect being a new betting company, they still offer an incredibly reliable platform for punters.
Whilst there are relatively few customers when compared to other betting exchanges, we'll start to hear more and more reports on the reliability of the platform over the coming months.
Having said that, I've had no problems with the reliability and think it's a very strong start for the Betconnect platform.
What's more, Betconnect hit £2 million in monthly matched bets in October proving that the platform is both very popular and reliable with punters and pros across the country.
Using the Betconnect platform
Now you know a little more about the key aspects of Betconnect, let's look at what's it like to use the platform regularly.
As Betconnect don't need to show hundreds of markets to their users, their user experience is very simple. Their website and mobile app designs are very modern and user-friendly.
What's more, the Betconnect team are working on a brand new website which should make the whole experience even better.
Like other betting companies, Betconnect allows you to check your profit and loss over certain periods. You can view this in your punter profile section.
You can also see the number of Bet Requests you've matched and the number of rejected Bet Requests. Betconnect also gives each account a rating out of 1000.
As I mentioned earlier, the Betconnect platform is entirely customisable. Here are some of the options available to punters:
Change your sporting preferences
Alter the maximum liability per bet request
Select the bookmakers you wish to receive bets for
Alter the maximum odds of bets you receive
And more…
Where is Betconnect available?
Currently, Betconnect only accepts accounts from those who live in the UK. This means you'll need to have proof of a UK address as well as a UK payment method.
However, I think this will change soon as Betconnect looks towards different territories.
Betconnect and matched betting
For those of you interested in making a guaranteed profit online, you may want to check out matched betting.
Whilst I won't go into the details in this Betconnect review, no risk matched betting is a way of making a guaranteed profit from bookmakers free bets and other promotions.
By using Betconnect as your betting exchange and placing your lay bets, you can avoid losing any money as you typically do at other betting exchanges like Smarkets and Betfair.
This makes matched betting even more profitable, allowing you to keep more money in your bank account.
All in all, Betconnect is certainly a betting platform you should consider using if you're looking to take advantage of bookmakers promotions using matched betting.
It's certainly more profitable than using the likes of Smarkets or Betfair.
However, you will be limited in terms of what markets you can place your bets on.
Betconnect review – A good option in 2020?
Overall, are Betconnect a good option for your betting in 2020?
In a betting industry that has followed the same model for a long time, Betconnect offers a new model and a fresh approach that may put a serious challenge to competitors in the future.
In a quick recap, here are the main benefits of using Betconnect.
Zero commission meaning there's plenty of profit in it for punters.
Follow some of the most profitable professionals that have been banned for winning too much.
Make your betting more sociable.
And much much more…
Get started with Betconnect by clicking here.
Let me know your thoughts of Betconnect and whether you're going to open an account with them in 2020 by leaving a comment below right now.